Plant Guide
>
Fruits
---
Fruits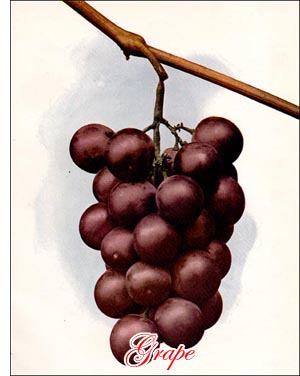 Broadly speaking, Fruits are as multitudinous in variety as are the species of flowering plants upon which they grow. When the term fruit is used in ordinary language, we generally have in mind those fruits which are edible for man, and it is in this restricted sense that the term is here applied.
Edible fruits are found in all countries and grow upon a great variety of flowering plants. They resemble each other in that they contain a high percentage of water, holding in solution acids, sugar, and other substances in variable quantity.
Sub-tropical and tropical countries are usually considered the chief fruit countries. It would be more correct to state that all countries yield fruits in abundance, though each zone has fruit plants peculiar to it.
Botanically considered, a fruit consists of the matured or fully developed ovary enclosing the ripened seeds. According to this definition,
apple
,
pear
,
quince
,
pomegranate
,
strawberry
, and others are not true fruits.
Apple
,
pear
, etc., consist largely of the modified fleshy calyx, and the
strawberry
is a much-thickened torus, or receptacle. In some cases only a part of the fruit is edible.
There is an outer thin covering, commonly known as the peel, which is often eaten, but which would better be removed by peeling, as it is indigestible and may cause trouble. In some cases (
banana
,
orange
,
lemon
) the peel is very thick and wholly inedible. In the case of
peach
,
cherry
, and plum, the hard endocarp (shell) is inedible.
In case of
nuts
, so called, the seed is the edible portion, while that part of the fruit belonging to the ovary (as hull and shell) is wholly inedible. These nut seeds resemble each other in being very rich in oil and comparatively dry. They are, therefore, difficult to digest and should be eaten only in small quantities at a time.
Most of the stone fruits are not especially palatable, hence they are generally rejected, except such as the
sweet almond
.
Apple
Banana
Cherry
Egg Plant
Grape
Grape Fruit
Kumquat
Lemon
Lime
Orange
Peach
Pear
Persimmon
Pineapple
Pomegranate
Quince
Strawberry
Tomato
Watermelon