Plant Guide
>
Trees
---
Trees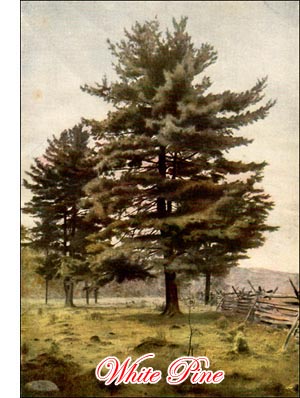 Occasionally I meet a person who says: "I know nothing at all about trees." This modest disclaimer is generally sincere, but it has always turned out to be untrue. "Oh, well, that old
sugar maple
, I've always known that tree. We used to tap all the sugar maples on the place every spring." Or again: "Everybody knows a
white birch
by its bark." "Of course, anybody who has ever been chestnutting knows a
chestnut tree
."
Most people know
lombardy poplars
, those green exclamation points so commonly planted in long soldierly rows on roadsides and boundary lines in many parts of the country.
Willows
, too, everybody knows are willows.
The best nut trees,
the shagbark
,
chestnut
and
butternut
, need no formal introduction. The
honey locust
has its striking three-pronged thorns, and its purple pods dangling in winter and skating off over the snow. The
beech
has its smooth, close bark of Quaker grey, and nobody needs to look for further evidence to determine this tree's name.
So it is easily proved that each person has a good nucleus of tree knowledge around which to accumulate more. If people have the love of nature in their hearts-if things out of doors call irresistibly, at any season-it will not really matter if their lives are pinched and circumscribed.
Ways and means of studying trees are easily found, even if the scant ends of busy days spent indoors are all the time at command. If there is energy to begin the undertaking it will soon furnish its own motive power.
Alders
Apples
Arbor Vitaes
Ashes and Fringe Tree
Beeches
Big Tree and Redwood
Birches
Buckeyes
Buckthorns
Burning Bush
Catalpas
Chestnuts
Conifers
Cypresses
Elms and Hackberries
Firs
Gordonias
Hawthorns
Heaths
Hemlocks
Hercules Club
Hickories
Hollies
Hornbeams
Incense Cedar
Junipers
Larches
Laurels and Sassafras
Lignum Vitae
Lindens
Magnolias and Tulip Tree
Mahogany and Gumbo Limbo
Mangroves
Maples
Mountain Ashes
Mulberries and Osage Orange and Figs
Oaks
Palms and Palmettos
Papaw and Pond Apple
Paradise Tree and Ailanthus
Persimmons
Pines
Plums and Cherries
Pod Bearers
Poplars
Prickly Ash and Hop Tree
Service Berries
Silver Bell and Sweet Leaf
Spruces
Sumachs and Smoke Tree
Sycamores
Torreyas
Tupelos and Dogwoods
Viburnums and Elders
Walnuts
Willows
Witch Hazel and Sweet Gum
Yews
Yuccas