Plant Guide
>
Spices
---
Spices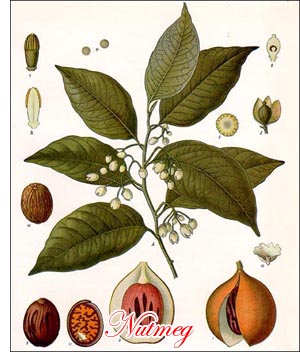 Spices of various kinds have been in use since the history of man.
Their purpose has been to give an agreeable flavor to food, rendering it more palatable, and to stimulate digestion.
Most of the spice-yielding plants are tropical or subtropical, and are all extensively cultivated. Any part of the plants may be used.
In the case of the
peppers
and allspice, it is the dried fruit which is employed; in the case of
cinnamon
, the bark is used.
Ginger
is an underground stem or rhizome;
nutmeg
is a seed; mace is a fruit covering (arillus);
clove
is a flower; mother-of-clove, a fruit.
A moderate use of spices does, perhaps, no harm, but an excessive use of these artificial adjuncts to digestion causes an inflammatory condition of stomach and liver.
They also blunt the taste sense. Persons who never use spices are not sufferers, as has been proven repeatedly.
The Dutch are the chief promoters of the spice industry and were the first to cultivate spices on a large scale on the various tropical islands in their possession.
Allspice
Caper
Cardamom
Cassia
Chili
Cinnamon
Clove
Coffee
Coriander
Cumin
Curry
Ginger
Grains of Paradise
Nutmeg
Pepper
Red Pepper
Sugar Cane
Tea
Turmeric
Vanilla