Plant Guide
>
Mosses and Lichens
>
Mosses
>
Genus Harpidium
---
Genus Harpidium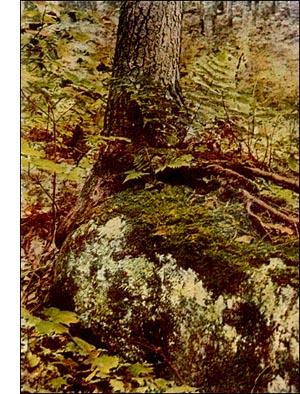 HYPNUM: Sub-genus HARPIDIUM, Sulliv.
The species of the Sub-genus Harpidium are found usually in marshes. They have stems divided irregularly into long ascending rootless branches sometimes plume-like with short branchlets which are all more or less curved at the apex like a boat-hook.
The leaves are firm and membranous with the apex prolonged into a slender point and turned to one side as a scytheblade; a single vein extends to above the middle or to the apex; the cells are narrow, enlarged and inflated at the basal angles.
The name Harpidium, the Latin for "hook," describes the hooked leaves, the important character of the sub-genus.
The spore-cases are borne on long smooth pedicels, they are oblong-cylindrical, often arched, with short and conical lids. The teeth are as in the genus Hypnum.
There are numerous species.
In the "Kryptogamen Flora," of 1898, K. Gustav von Limpricht, a prominent bryologist, devotes about seven pages to a most intricate classification of the sub-genus Harpidium.
Hooked Boat Hook Moss