Plant Guide
>
Mosses and Lichens
>
Mosses
>
Genus Aulacomnium
>
Aulacomnium Palustre Moss
---
Aulacomnium Palustre Moss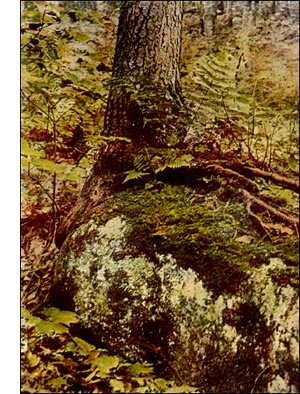 Aulacomnium palustre, Schwaegr.
Habit and habitat.-In loose or dense tufts 1 to 5 inches deep, yellow or dirty-green above, red-brown within. Found on borders of swamps, on plains, or on mountains.
Name.-The specific name palustre, Latin, palus, a swamp, refers to the habit of the moss.
Plants (gametophyte).-Robust, closely covered with redbrown felted filaments, often producing whip-like branches with clusters of bud-like growths at the apex.
Leaves.-Usually crowded, more or less crisped and twisted when dry, narrowly lance-shaped; apex obtuse or pointed; margin finely toothed toward the apex, rolled back below; vein vanishing below the apex; cells with tiny projections on both faces.
Habit of flowering.-Male and female flowers plants (dioicous). Male flower-clusters bud-like.
Veil (calyptra).-Split up one side.
Spore-case.-Oblong, unsymmetrical.
Pedicel.-1 to 2 inches long.
Lid (operculum).-Conical.
Annulus.-Large, compound, rolling back as the lid falls.
Teeth (peristome).-Long, acute, the segments of the inner membrane about as long, with 3 to 4 cilia intermediate.
Spores.-Maturing in early summer.
Distribution.-Universal.